8.5" x 11" Label Sheets
We have 8.5" x 11" label sheets just for you! Perfect for printing at home, or also convenient enough for us to do the printing for you, browse sizes for labels on 8.5" x 11" sheets and let's get started on your next labeling project! Who's excited?!
See More Sizes
Not quite what you had in mind?
No problem, we can create a custom size!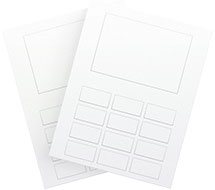 Set up exactly how you need it
Fast Turnaround
Great pricing
Always available for re-order
Get a Custom Size
Reasons to Love SheetLabels.com!

Fastest Service Out there - Quality Products
Our company has ordered numerous Labels from SheetLabels.com over the past few years. We have always received the labels on or before we needed them, they were quality labels, no matter which ones we ordered, and love the fact you can order the quantity you need no matter how small or how...
read more
Judith Y.

Outstanding service
The website is awesome and it makes it so easy to reorder items and we usually get the labels in just a few days. Always recommend this company to friends. Thank you for your service.
John & wendy V.

President
Tony Dillon is a great customer service representative. He and Lindsey Rice make it very easy to do business with Sheet Label. They can't do enough for you. We are working with the team, headed by Adam Gray, on a very innovative project to fulfill our label needs and save significant resources.
Debbie G.