8.5" x 14" Label Sheets
Need to print something on legal sized paper on your printer at home? No problem! Find 8.5" x 14" label sheets right here! These large, legal sized sheets of labels, allow you to fit four decent size labels on one sheet, rather than just 2 or 3 on normal sized label paper. Rather us print it for you? We can do that too! Let us know how we can help, we are ready - Let's get started!
Not quite what you had in mind?
No problem, we can create a custom size!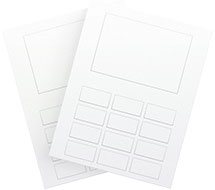 Set up exactly how you need it
Fast Turnaround
Great pricing
Always available for re-order
Get a Custom Size
Reasons to Love SheetLabels.com!

WOW! What prompt service
UPS just handed Rosemarie 3 boxes of labels. Right price. Right labels. Superb service. That is why we keep coming back. Joe Sabah
Joe S.

Excellent Customer Service
Best customer service I've experienced in a long time. Always prompt with an answer or the willingness to find it, these folks aim to please their customer. The difference I am paying in price is astounding. Not only first rate service, but quality materials at a reasonable price. Who...
read more
Kala M.

Im glad I chose you.
This was exactly what i was looking for. Before I was using paper labels for my beverage product and they were not suitable for the way wanted to present my product. The labels would crinkle and peal of when the beverages got cold in the fridge. Now with my new labels from SHEET LABELS, I no...
read more
Z S.