Print Hundreds Of Labels With Ease By Using The Microsoft Word Mail Merge Feature!
Upload ten, twenty or even one hundred contacts and addresses to your label template by doing a mail merge. Use the video(s) in this Mail Merge Using Microsoft Word section and you'll be printing labels in no time! If you have any video suggestions for the Mail Merge Using Microsoft Word video section, please let us know!
Featured Video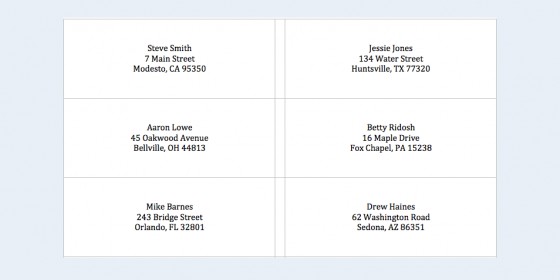 How to do a Mail Merge Using Microsoft Word
July 26, 2013
Follow the step-by-step directions shown in this video to upload a mailing list to your Microsoft Word template by doing a basic mail merge!
Read it Instead
Reasons to Love SheetLabels.com!

Highly recommend this company
They are super fast and very customer service oriented!
Richard L.

Helena Pepper Co. - Clark's Caribbean Seven Sauce
Nick Dunphy, I'm shipping you bottle of sauce! What an awesome job on my labels. They match what I created and sent to be printed, perfectly. Pre cut saves me time, and the backing peels off extremely easily with no hassles. The pricing, quality, and customer service is the best I have found...
read more
James W.

Excellent Customer Service
Best customer service I've experienced in a long time. Always prompt with an answer or the willingness to find it, these folks aim to please their customer. The difference I am paying in price is astounding. Not only first rate service, but quality materials at a reasonable price. Who...
read more
Kala M.