Baby Bottle Labels
712 Total Reviews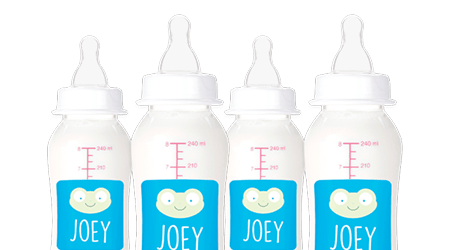 Having a baby is one of the most special times in your life! We know how wonderful that time is, but we also know how hectic it can be. Stay organized with a little labeling help! Great for organizing formulas or juices, mark your child's bottle before dropping them at daycare, or add a colored label on a bottle containing medicine so that nothing is undetected or misused.
Printed or Blank Baby Bottle Labels
For parents who are on-the-go, it's imperative to stay organized and a labeling system is a great idea! Allow us to help you with your organization. Let's get started!
---
SheetLabels.com Reviews
Kai Tan
8/31/2020
easy to find and order what you need
Valerie Breun
8/31/2020
Easy and end result was great.
David Conner
8/31/2020
The orders always arrive promptly and as expected.
Michael Sanders
8/31/2020
The margins labels I just bought were too close to the edge of the paper, beyond the tolerance of the professional laser printer I was using -- so basically the labels are useless for me now. Perhaps there's a disclaimer somewhere on the page advising that customers should confirm compatibility with their printer. But that's not the point. For a size that's CLEARLY incompatible with any standard printer, you should have a warning that can't be missed. After all, compatibility with typical printers is th
Load More