Monthly Baby Labels
924 Total Reviews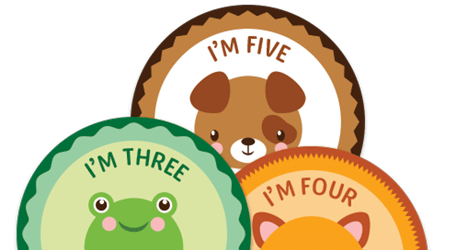 Track your baby's growth per month with adorable, custom printed labels! It's all the craze, posting photos of your little man or little princess is fun and oh so easy. With a wide variety of fun, uniquely shaped labels, and such a broad variety of materials to choose from - selecting a label is a breeze!
Printed or Blank Monthly Baby Labels
From fun heart shapes, to round, oval, and even circle labels, we make showcasing your child's monthly development momumental and unforgettable!
---
SheetLabels.com Reviews
Khadijah El-Amin
3/24/2023
The label color originally displayed was not the color on the proof. I went with the proof color as to not delay the process. However, closer matching would be good. Also, the four day turnaround really shouldn't be advertised as such since the process itself takes much longer is closer to two weeks overall. The team did do a good job, however of answering my questions and getting back to me quickly. I may still look at using this company in the future.
Paige Haroldson
3/23/2023
Variety of label colors.
Vanessa Atkinson
3/19/2023
I am able to buy in bulk and get excellent prices. I do wish when i recieve my labels they can put what size they are on there. It also has fast shipping, and dependable service. I will always use sheetlabels
Maria Macrina
3/16/2023
Everything! Simple website, great customer service, love the free samples, beautiful custom labels, and great prices!
Load More