Medical Chart Labels
1134 Total Reviews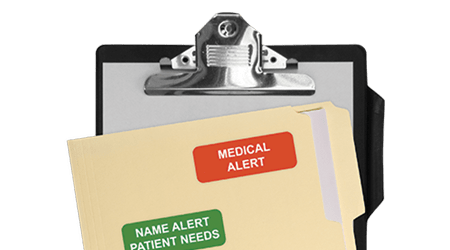 We have a large selection of labels that work well as medical chart labels! Whether you need labels for a doctor's office on rolls or sheets, or need labels for items at your hospital, we have got you covered.
Printed or Blank Chart Labels
Fluorescent labels are an excellent choice to color code charts and files, while high gloss labels provide vibrant photo quality brilliance for logos or important messaging. Need help? Please give us a call and we'd be happy to help!
---
SheetLabels.com Reviews
Candice Metivier
3/25/2023
Very helpful in making sure my order was exactly what I wanted, and when it wasn't, they were great at making it right!
Chaim Weiser
3/21/2023
Their great reliable service
Lawrence Rykard
3/20/2023
Accurate online stock/inventory
Stacie Barry
3/18/2023
I really love Sheet Labels. However I think the label making software can be improved. I cannot copy and paste text into a label I am making without it being all in one line. So, for example, if I have a 5x4" label with paragraph of text in a word doc, then copy and paste the words into your program, it is all on one line in your program. Like from Maine to California long. Then I have to slide the whole line to the right so I can see the beginning part on the left. Then I have to hit return where I t
Load More