Videos Tagged: "Adobe Illustrator"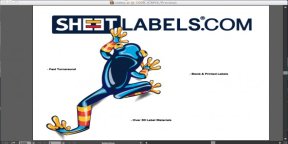 How-to Outline Fonts Using Adobe Illustrator
Follow the step-by-step instructions listed in this video to learn how to outline fonts in Adobe Illustrator before uploading artwork files to SheetLabels.com!
Reasons to Love SheetLabels.com!

AWESOME!
Quick service along with excellent product. Will continue to order from you!
Jennifer B.

Fastest Service Out there - Quality Products
Our company has ordered numerous Labels from SheetLabels.com over the past few years. We have always received the labels on or before we needed them, they were quality labels, no matter which ones we ordered, and love the fact you can order the quantity you need no matter how small or how...
read more
Judith Y.

Outstanding service
The website is awesome and it makes it so easy to reorder items and we usually get the labels in just a few days. Always recommend this company to friends. Thank you for your service.
John & wendy V.