When will my order ship?
Order processing times depend on the item and quantity you've ordered. For custom label orders, our standard production time is 4 business days after proof approval (excludes weekends and holidays). We strongly encourage you to review and approve your proof at your earliest convenience to avoid any delays. Digital proofs are emailed to you by our support team within 24 hours after order placement and we cannot begin printing until we have an approved proof.
For blank labels, orders typically ship within 1-3 business days. Size and quantity also play a factor in this. Our standard size labels for our most popular materials ship same day if your order is placed prior to 4:00pm EST and is under 5,000 sheets. When selecting your material and quantity, you will see if the labels are in stock, and when they will ship. If no estimate is given, you can expect your labels to ship in 3 business days.
If your order contains multiple products the turnaround time for your entire order will be determined by the product with the longest turnaround. If you would like your products to ship at different times or to different locations you can place multiple orders.
Example of labels shipping the same day:
Example of labels shipping the next business day: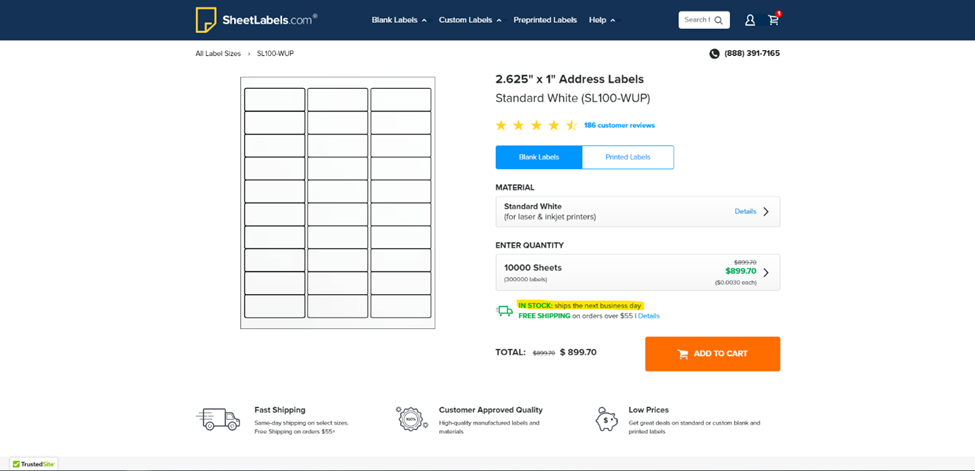 Example of labels showing no status (will ship in 3 business days):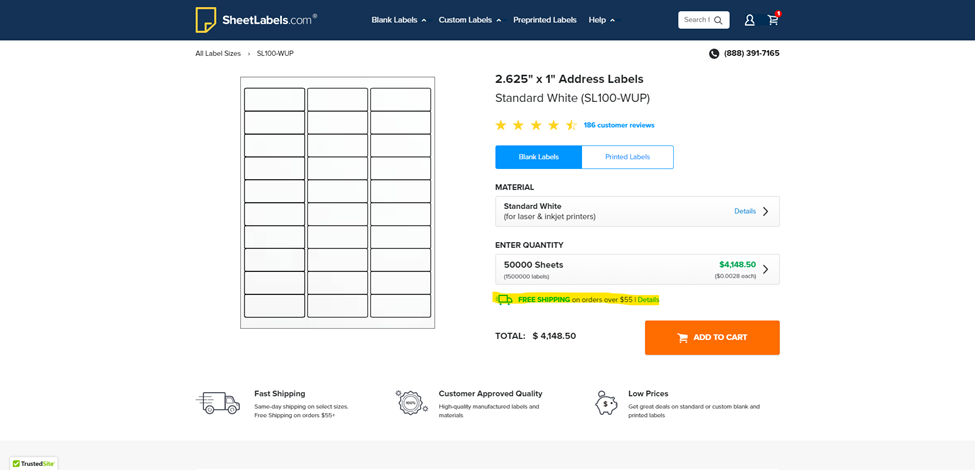 Expedited Processing & Shipping Times
You can upgrade both your printing and shipping times should you need your labels sooner. To upgrade your printing time once your item is in your cart, click the dropdown arrow to view and select our 2-day and 24-hour rush options. You can also click the (?) icon for a calendar view illustrating when your order will ship for each available option.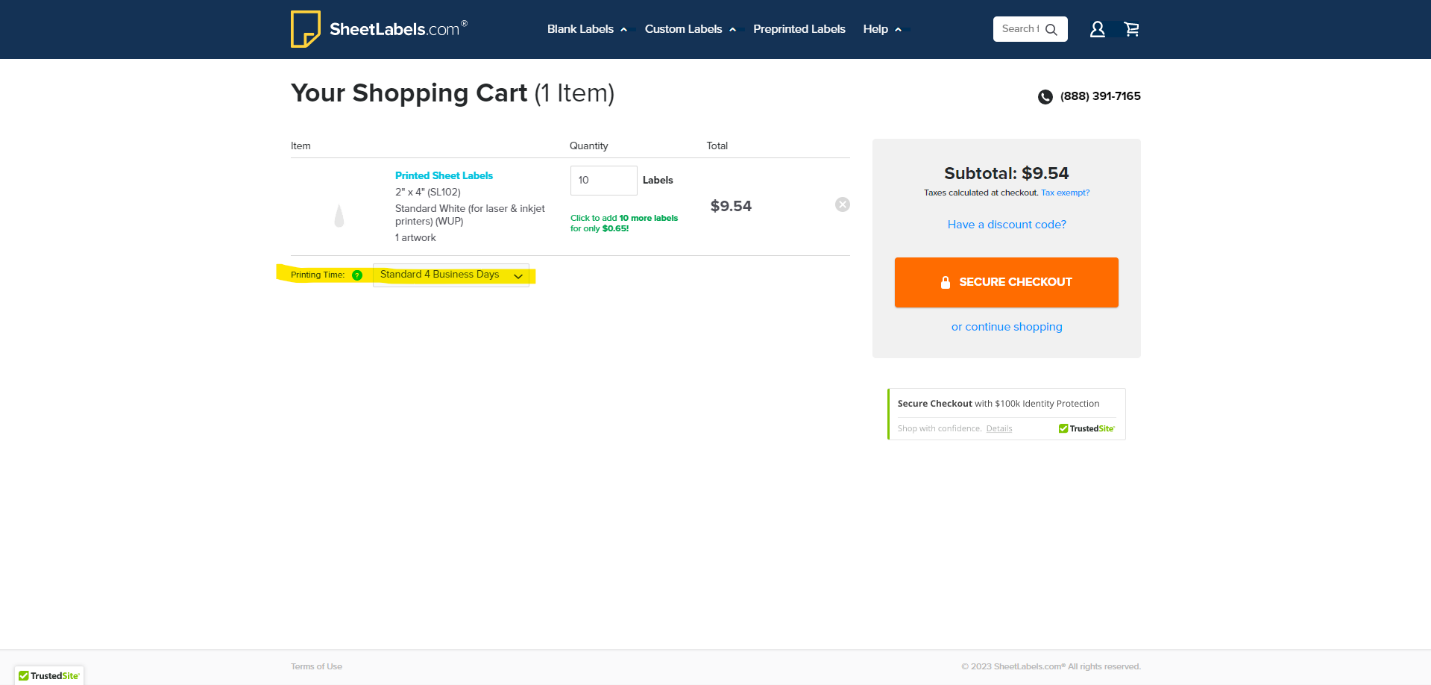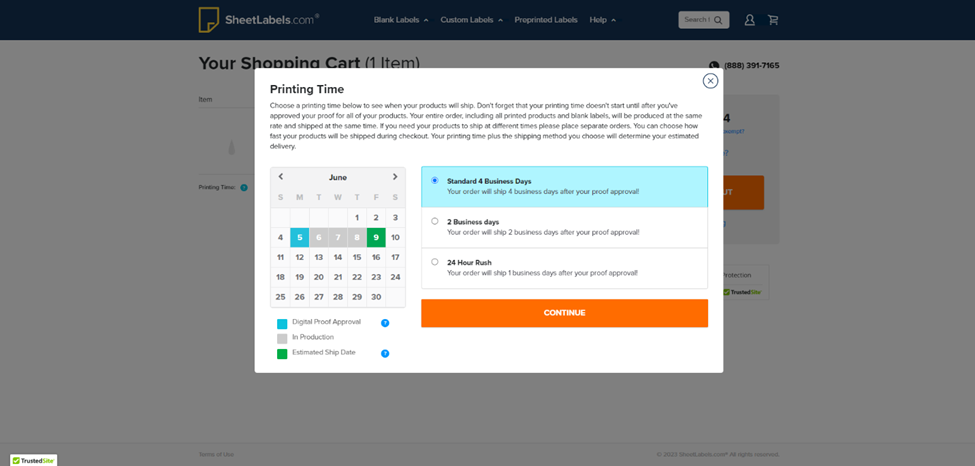 Finally, once you are in checkout review, you can select your desired shipping method. These are sorted from the least to most expensive shipping option by default and estimated delivery times for each.
Checking Your Turnaround After Order Placement
After you've already placed your order, you can view the status of your order, including date placed and full order details in your account. To see the status of your order, click the person icon in the top right corner and click "Your Orders"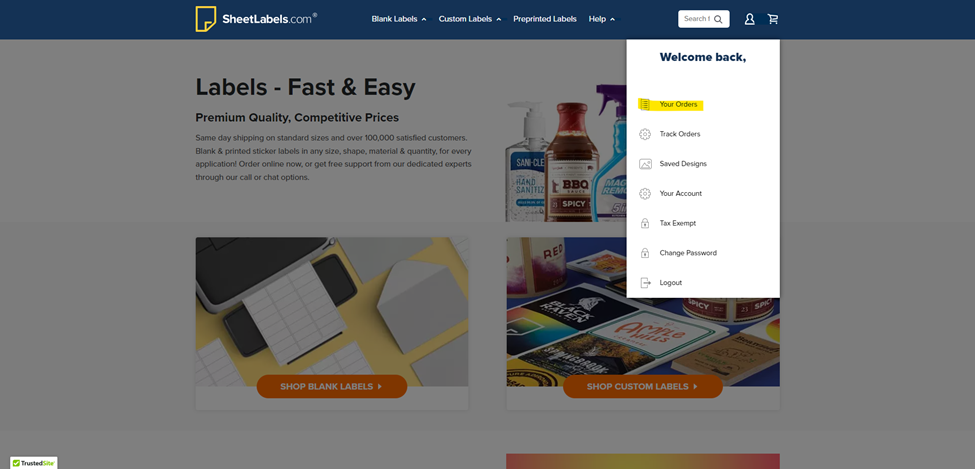 From here, you can view and track your orders. This gives an overview of the order including when it was placed and its status. Click on view order details to see more information.

Of course, if you ever have any questions about the status of your order and when it will ship, you may always contact us and we'll be happy to give you an update.
Was this helpful?
Need help? We're here!
Our expert customer service team is ready to help you with any questions or concerns you may have.
Real time help is available
Monday through Friday 9AM - 6PM EST
Need help? We're here!
Our expert customer service team is ready to help you with any questions or concerns you may have. Real time help is available Monday through Friday 9AM - 6PM EST
Contact