What is a digital proof?
A digital proof is an image representation of how your artwork will look once printed on your label. It serves as a "final draft" of your artwork and allows you the opportunity to check that you're happy with the way your artwork will be printed at your chosen label dimensions. Unlike other label printing companies, we have real people that review and deliver your proof to you, and they will work with you to make any corrections prior to printing.
Your proof may also include warnings or notes from our design team to alert you about potential issues with your artwork, as shown in the image below. Please note that if you're viewing your proof on a mobile device, the warnings may be in a different location on your screen. It's also important you take note of the safe zone and cut line as this will show how your artwork will appear on the label.
Read more about safe zones and cut lines.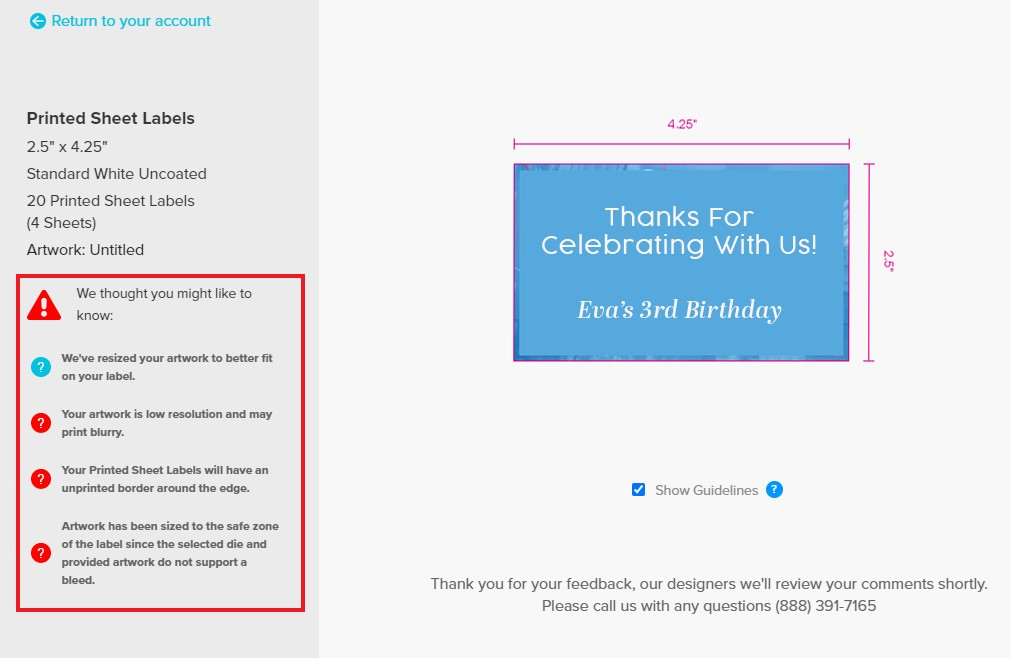 You can expect to receive your digital proof via email within 1 business day of placing your custom printed order. We recommend viewing your proof on a desktop or laptop computer for the best viewing experience. When viewing your digital proof, you'll have the choice to approve your proof or to request changes before printing. You may select either option, as shown in the image below. Please note that requesting changes will extend the production time of your order, as a new proof will need to be created and sent to you for your approval after the changes are made.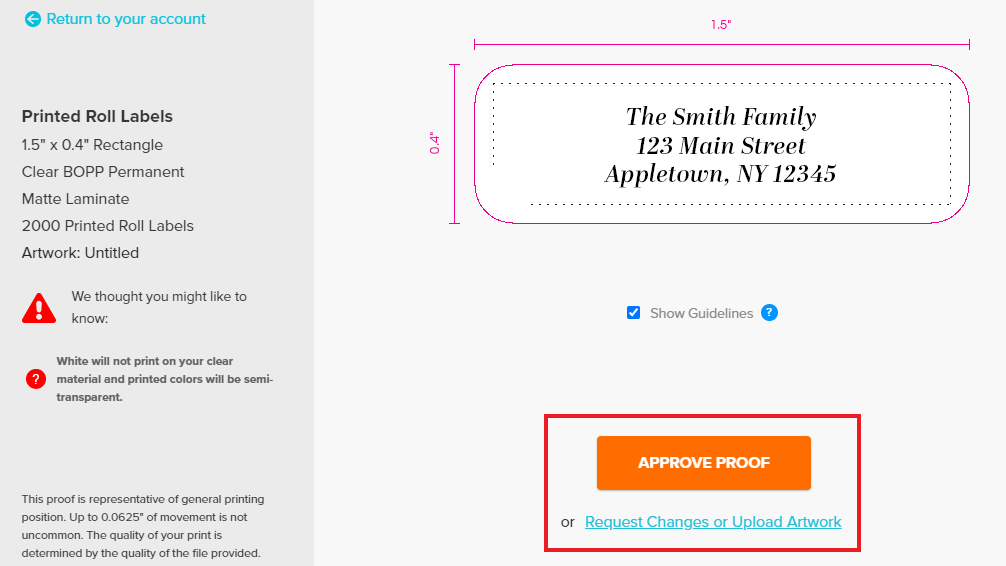 You must approve your digital proof before your label can be sent to printing. Please note that by approving your proof, you are verifying that the artwork shown on your proof is correct and is what you would like to have printed on your finished label.
Was this helpful?
Need help? We're here!
Our expert customer service team is ready to help you with any questions or concerns you may have.
Real time help is available
Monday through Friday 9AM - 6PM EST
Need help? We're here!
Our expert customer service team is ready to help you with any questions or concerns you may have. Real time help is available Monday through Friday 9AM - 6PM EST
Contact