Can I order samples?
Yes! We offer material samples for both our blank and custom printed labels. This allows you to get a sense of feel and performance of our materials. Here is a detailed summary of how to order samples and the various types/materials offered.
First, head on over to our samples page. This is accessible from any page of our website, including the home page via the clickable "free samples" callout in the banner at the top of our site. Alternatively, click on "Free Label Samples" text located at the bottom of the page.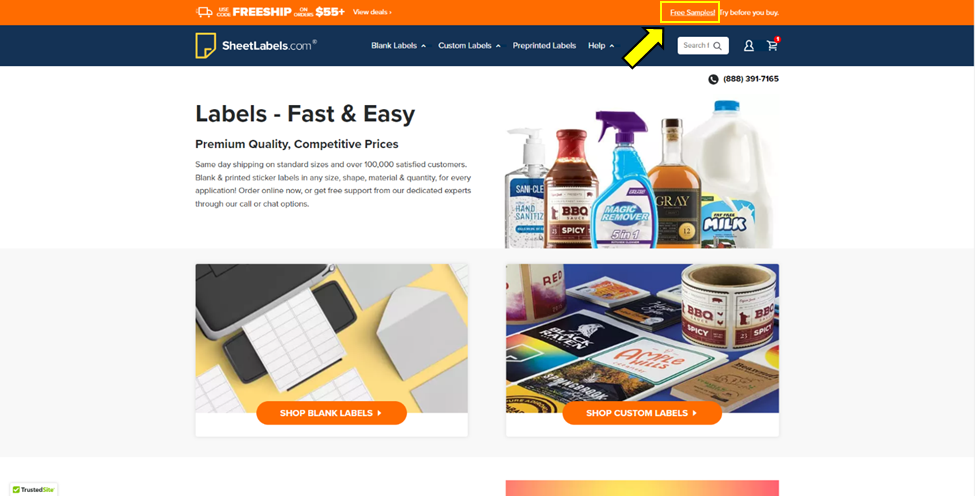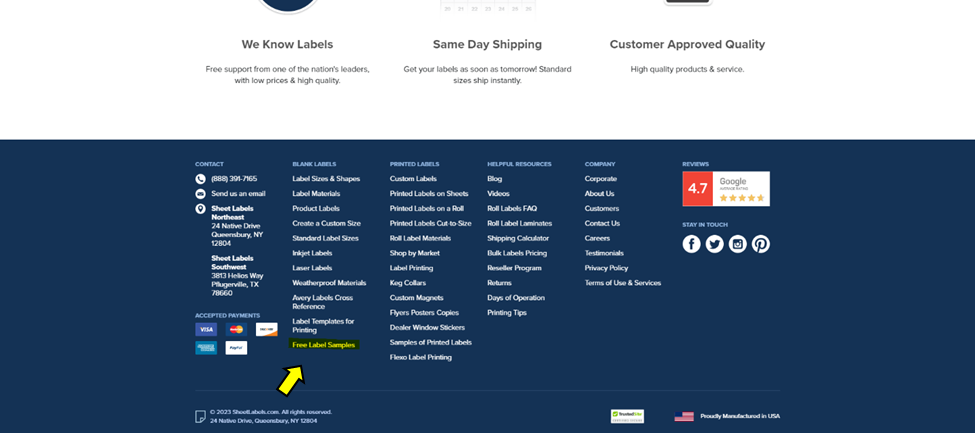 From the samples page, you'll see a list of sample products to choose from, including blank sheets, custom printed labels (sheets and/or rolls), stickers, and magnets. Also ensure to take note of the FAQs listed here for more information. Please note that blank sheet samples are not offered in specific sizes as these are pulled from our existing inventory on hand. Free samples are offered to customers to test the materials we offer. If it is crucial you receive a sample of a specific size, please contact us for more details. Additionally, all custom samples are preprinted with in-house artworks to give you a sense of look and feel.
Additional Samples FAQs
How many samples can I order?
You can order 3 different types of samples at any given time. If our systems detect irregular samples activity, you may be prompted to contact us to fulfill your request.
Can I order samples of blank sheet labels in specific sizes?
No. Our samples are pulled from our existing stock of limited inventory, so we cannot guarantee specific sizes. Samples are intended to be used to test the material, not size.
Can I order custom printed samples of my own artwork?
Yes. Free samples are only available with one of our pre-selected artworks but we do offer options for hard copy proofs and press proofs for custom printed orders. If you are intereseted in purchasing one of these options, please contact us.
Do you offer any sample kits with a more extensive list of materials?
No. Currently, we do not have a sample kit to share with customers. We give you the freedom to pick and choose the samples that best fit your needs for review/testing. However, we can construct a sample kit of materials upon request. Additional charges may apply.
Was this helpful?
Need help? We're here!
Our expert customer service team is ready to help you with any questions or concerns you may have.
Real time help is available
Monday through Friday 9AM - 6PM EST
Need help? We're here!
Our expert customer service team is ready to help you with any questions or concerns you may have. Real time help is available Monday through Friday 9AM - 6PM EST
Contact