What is white ink and how do I know if my order needs it?
White ink printing is an option we offer on our transparent and metallic roll materials (Clear BOPP and Silver BOPP). Typically, white color cannot be printed on either of these materials, as it will show up as transparent on Clear BOPP and as metallic silver on Silver BOPP. In order to produce white on these materials, we use something called a white layer. This is a layer of white ink that gets printed beneath your artwork to allow the white color to show through.
These materials also affect the way other colors are printed, making them appear semi-transparent on Clear BOPP and as metallic on Silver BOPP. If you'd like only certain elements of your design to print this way, a white layer can also be used to achieve this. Putting the white layer beneath any color will allow it to print as fully opaque on a transparent material or as fully matte on a metallic material.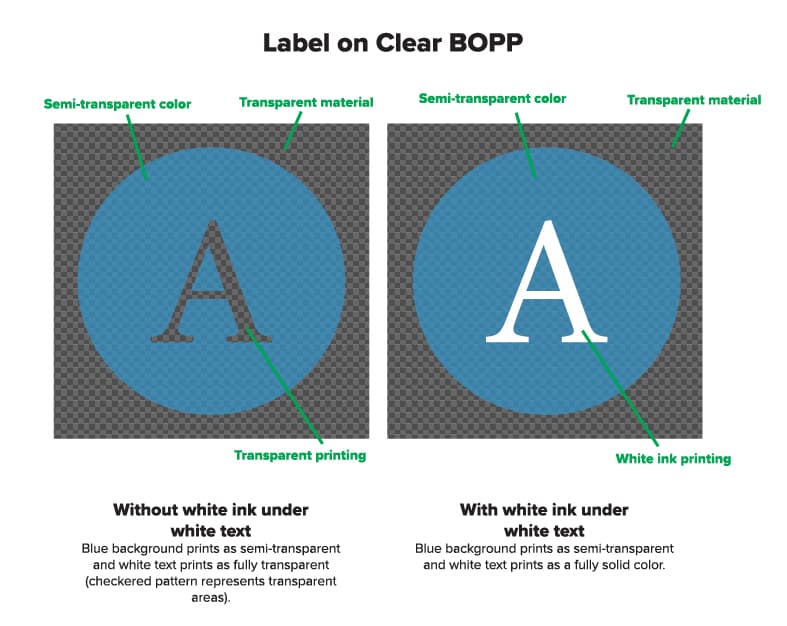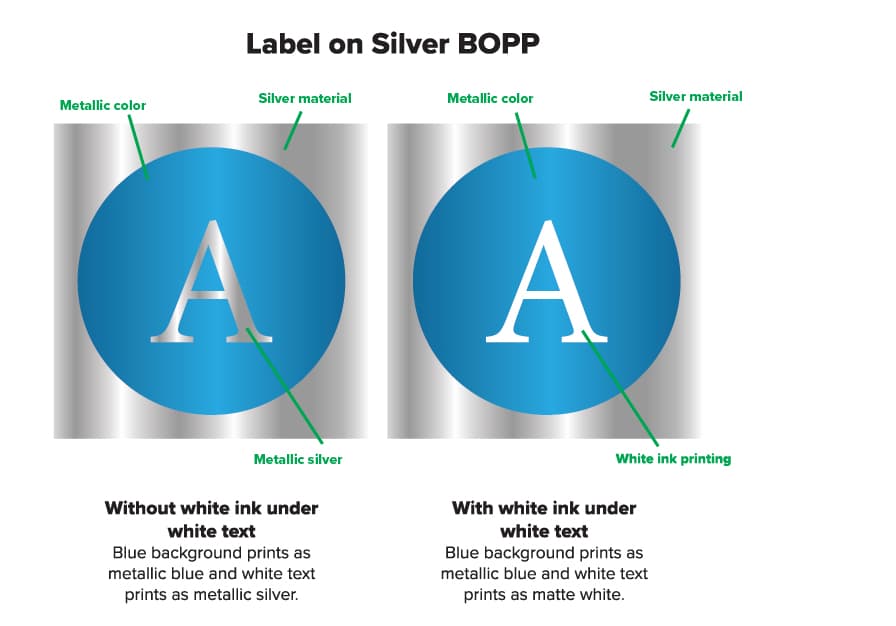 In order to have a white layer on your label, you will need to select the option on your roll label order and provide a vector file of your artwork. This is a layered/editable file that is typically an AI, SVG, EPS, or layered PDF file type. We are unable to create white layers using flat image files such as JPGs or PNGs. On your artwork or in your order notes, please also indicate the areas of your artwork you'd like the white layer applied under.
If your artwork does have white color but you're looking for those white elements to print as clear or metallic silver, your order does not need a white layer. If your artwork does not have white color and you are looking for all other colors on your label to print as semi-transparent or metallic, your order does not need a white layer.
Still need help? Our printing experts are here to assist you! Contact us today.
Was this helpful?
Need help? We're here!
Our expert customer service team is ready to help you with any questions or concerns you may have.
Real time help is available
Monday through Friday 9AM - 6PM EST
Need help? We're here!
Our expert customer service team is ready to help you with any questions or concerns you may have. Real time help is available Monday through Friday 9AM - 6PM EST
Contact