Hand Applied vs Machine Applied; What's the Difference?
There are many techniques and aspects of labeling to take into consideration during the buying process. Perhaps you are a large company labeling thousands of products on a routine basis, or maybe you're looking for a few labels to advertise for your next social event. Depending on your personal or business needs, the way in which your label is applied could be a significant factor in choosing the right supplier. In this article, we'll discuss the meaning of hand applied and machine applied and how they relate to your label application.
Hand Applied, What Does it Mean?
When configuring and pricing your label, you may be prompted to specify whether your labels will be applied by hand or machine. Hand applied means that you do not require the use of a machine or label applicator to apply your labels. Hand applied is the common choice for small label orders in which you are looking to simply peel and stick your label on your product or surface. In some instances, you may be using a label applicator and therefore it is important you specify your labels will be applied by machine.
Machine Applied, What Does it Mean?
For those having a more streamlined and/or automated process in applying their labels, you will want to ensure you disclose this information when ordering labels. In labeling, machine applied refers to the process of applying your labels via an applicator or other machine method. It involves specifying a specific unwind direction, usually either (1) top off first, (2) bottom off first, (3) right off first, or (4) left off first. Unwind directions can vary based on the type of applicator you are using. Reference the chart below for a visual of each unwind direction.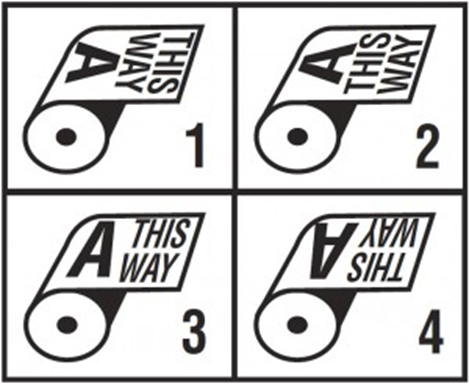 Unwind direction refers to the orientation of your label as it feeds out of the applicator. It is very important you consider your applicator's capabilities to ensure your roll labels are produced and finished in a compatible manner. Not sure which unwind direction is right for you? Refer to the source of your applicator for more information.
Was this helpful?
Need help? We're here!
Our expert customer service team is ready to help you with any questions or concerns you may have.
Real time help is available
Monday through Friday 9AM - 6PM EST
Need help? We're here!
Our expert customer service team is ready to help you with any questions or concerns you may have. Real time help is available Monday through Friday 9AM - 6PM EST
Contact